Up: Next: Next: Hike starting from Ohlone Previous Previous Hikes up Mission Peak, Fremont, CA

---
Hike up Mission Peak starting from Sunol
The Eastern Approach to Mission Peak
---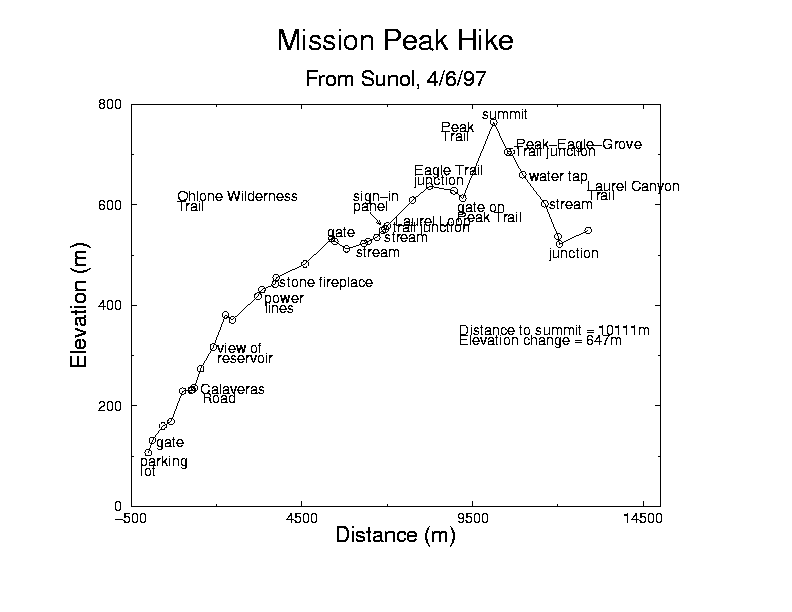 Click on the image for a large postscript version with better fonts (20K).
Photographic trail guide to the ascent.
The duration of this hike was about 6½ hours including a leisurely lunch. We just missed getting locked in the parking lot at sunset by the Sunol Regional Wilderness ranger. The Ohlone Wilderness Trail part of this hike is on San Francisco Water District land, so a $3 permit is required which is available at the SRW entrance gate or at Lake Del Valle in Livermore. You also have to pay a day-use fee to enter the park. Sunol Regional Wilderness is part of the East Bay Regional Park District.
Of the 4 approaches to Mission Peak described here, this one is the most shaded and would be most pleasant in hot weather. This is also by far the longest hike, but that means that there are almost no crowds.
---

.


alchaiken@gmail.com (Alison Chaiken)
last updated $Date: 2005/10/23 04:28:07 $ ..